Kelstar Is Your eero Pro Dealer
Our team is trained to install, service and maintain this state-of-the-art WiFi System—helping you to create a more connected home. Contact us today and learn what your home or business can do with eero!
The world's best-reviewed WiFi.
With 2x better performance than the original, the 2nd-generation eero WiFi system ensures you'll get powerful mesh WiFi in every nook and cranny of your home, backyard included. No more dead spots, slow spots, drop-offs, or buffering — right out of the box.
An eero and two eero Beacons perfectly cover most homes. While many systems limit the number of access points, eero lets you add as many as you need to customize a system to your space. eero TrueMesh™ technology ensures a consistently awesome connection when and where you need it.

With TrueMesh, WiFi hops between eeros to travel down hallways or go around walls. Most other WiFi systems only allow for one hop in any direction — so something as simple as a wall can mean that your devices can't get the WiFi they need. eero allows for more hops with less speed degradation — so you can cover any home and navigate around any obstacle.
TrueMesh technology knows the signal strength between each eero in your home and calculates the best path from your device to the internet. If there's a disruption on any part of your network — like if a pet knocks a Beacon out of the wall — TrueMesh dynamically reroutes traffic to keep it perfectly balanced. All this happens in the background so you don't notice a thing.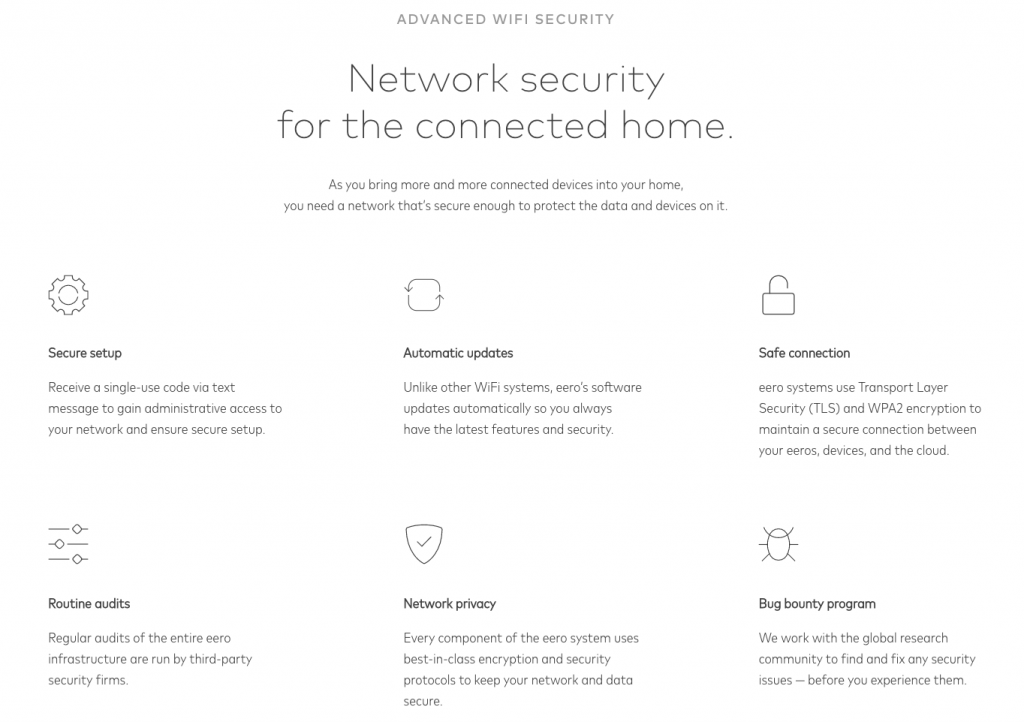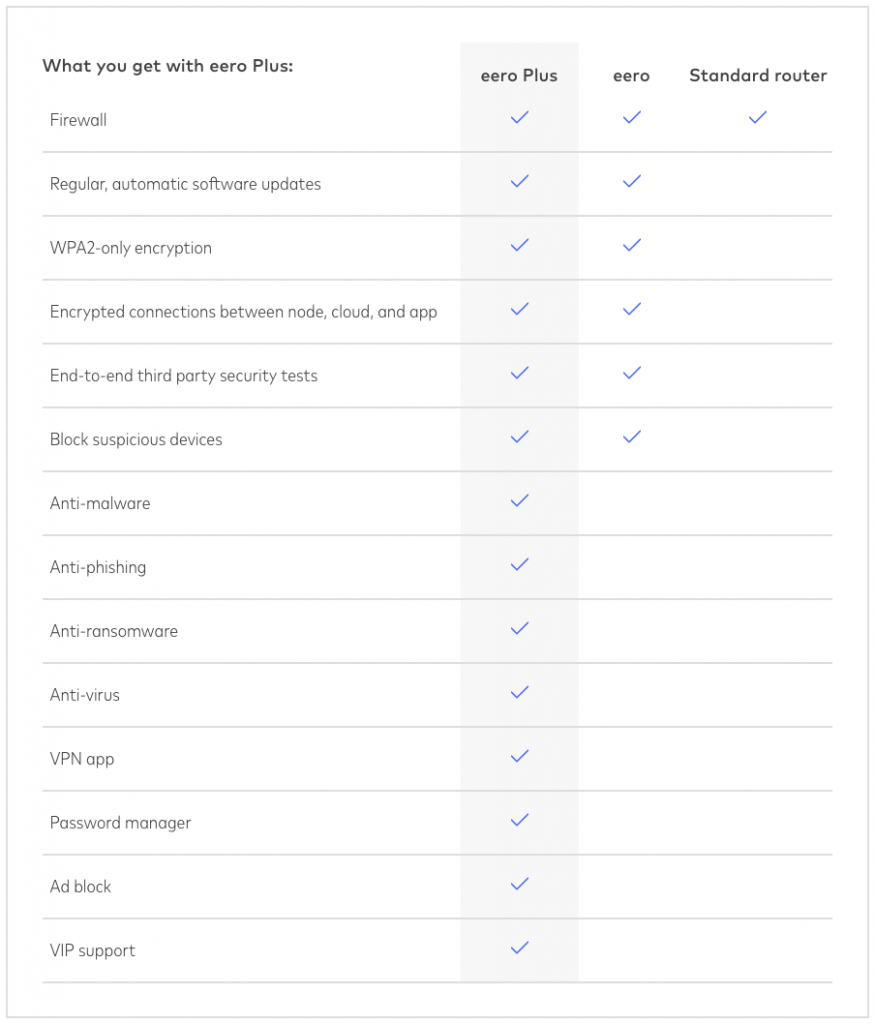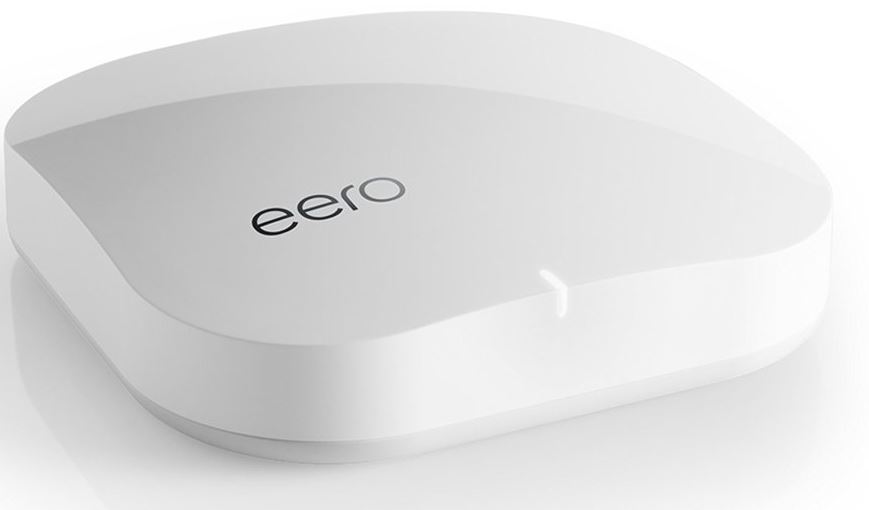 Premium protection for your network.
eero Plus is a premium subscription service that expands eero's built-in protection to help keep your personal information, connected devices, and kids safe online. With eero Plus, get advanced control at the network-level, across all your devices — no extra hardware required.
Online risks in the digital age.
From sophisticated phishing scams, to botnet attacks, to internet providers tracking online behavior, we're increasingly exposed online. Malicious sites that lock you out of your own data, snoop on you, and break your devices are all on the rise. The consequences of getting hacked cost time and money: replacing a computer, updating passwords, getting new credit cards, restoring your identity, and more.
Keep your family safe online with advanced digital security.
When it comes to avoiding digital threats, we can be our own worst enemy. eeros protect and secure the traffic flowing over your network through advanced encryption, but if you (or someone on your network) visits a harmful website, you may inadvertently invite a digital threat into your home.
Unlike the built-in protections included in your browser or email client, eero Plus partners with Zscaler to reference a database of threats that is automatically updated every second to protect you from millions of malicious websites with viruses, phishing scams, and more. For even more security, eero Plus will inspect any unknown or suspicious domains to confirm it's safe before sending you through.
Most importantly, with eero Plus, you don't have to manually set up protections on each device, but can be sure that all your devices, even more vulnerable ones like printers and security cameras, are secure at the network level with just a few taps.
Just as homes have doors with locks, eero systems come with world-class security. eero Plus gives you the additional peace of mind of a 24/7 security service that monitors and assesses threats as they arise. That way, you don't have to worry about how your kids — or anyone else for that matter — are using your network.
Create a kid-safe network.
Control what your kids can access. Or more importantly, what they can't. Content Filtering prevents your kids from accessing violent, illegal, or adult material. SafeSearch blocks violent or adult content from Google and Bing search results across all your children's devices.
Block ads across your entire network.
Ad blocking (available in beta) not only prevents annoying ads or pop-ups, it also improves load times for ad-heavy sites. Unlike browser plugins, eero Plus blocks ads on every device on your network — even phones, smart TVs, and other connected devices.